2015 ROOFING INDUSTRY ALLIANCE FOR PROGRESS' MOST VALUABLE PLAYER (MVP) AND "BEST OF THE BEST" AWARD
Posted on: October 16, 2015 4 PM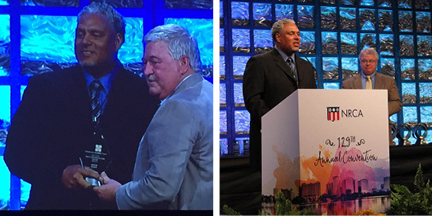 Curtis Purvis, Chamberlin Superintendent, was chosen as a Roofing Industry Alliance for Progress' Most Valuable Player for his exceptional achievements and contributions to the roofing industry in three of their five categories: Leadership, Safety and Community Service. This MVP awards program identifies up to 10 outstanding roofing workers who are role models demonstrating work-related and personal goals to which others aspire. In addition, he was honored as Professional Roofing's ONE "Best of the Best" MVP out of all of the entries from across the country.
An important aspect of Chamberlin's quality initiative is Chamberlin University. Chamberlin 'U' was conceived and developed in 2006 and implemented as part of our strategy to prepare Chamberlin for the future by earnestly training and educating our own workforce. Chamberlin has graduated hundreds of craft workers and superintendents from the course and invested thousands of hours in Chamberlin University-specific training and education. Classes include safety, technical and soft skills that empower Chamberlin team members to deliver quality, cost-effective projects that are completed safely and productively.
Subscribe Today!
Stay-in-the-know and subscribe to our blog today!