Chamberlin Safety Program
Chamberlin's safety culture is based on OSHA standards being the minimum, as we strive to improve and exceed OSHA guidelines on every project. Chamberlin's safety goal on each and every project is to prevent any injury from occurring and to protect all property and equipment from damage, whether Chamberlin's or others'.

Jobsite Safety Program
Chamberlin has full-time safety coordinators who inspect job sites daily. All Safety Coordinators are certified OSHA Outreach Trainers and can conduct OSHA 10-Hour and 30-Hour courses. Chamberlin's Safety Director is responsible for continuous oversight of all Chamberlin safety training and performance of the field operations team.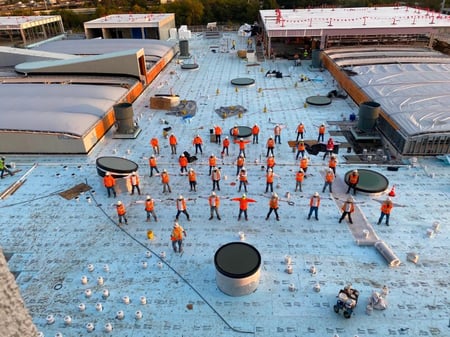 All Chamberlin superintendents are OSHA 30-Hour certified. Our foremen and field technicians are OSHA 10-Hour certified at a minimum. To date, we have 296 employees who are OSHA 30 certified and 681 who have completed their OSHA 10-Hour. In addition, all superintendents undergo an extensive supervisory training program through Chamberlin University.
Stretch and flex exercises before work begins each day are an important component of Chamberlin's safety program.
The course covers safety planning, tips for effective supervision, disciplinary action, job hazard analysis forms (JHAs), and much more. We know that to build an effective safety culture, our supervisors must be trained to be professionals in all aspects of their work.
To reinforce Chamberlin's safety culture, daily job-site meetings are held to review specific job hazards and to develop daily JHAs. Additionally, we conduct weekly "toolbox talks" that cover recurring safety topics, and quarterly office-wide safety breakfasts are utilized to reward and formally recognize those who have achieved an excellent safety record by receiving satisfactory job site safety audits and accomplishing other company-wide safety goals.
Online Tracking and Safety Auditing
Chamberlin utilizes an innovative safety and health program called Predictive Solutions (Safety Net), which is an electronic safety auditing system. Predictive Solutions is a software program utilized by our safety personnel to record both safe and at-risk behaviors and conditions as they do their jobsite inspections.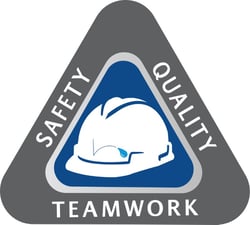 The data collected is used for developing customized risk management reports, breakouts and predictions based on the observed behaviors. These reports can be sorted by project, supervisor, time, market, etc. and will report the highest and lowest levels of risks with specific risk types (PPE, cuts, sprains, falls, burns, etc.). This enables Chamberlin to better understand and identify safety risks and use empirical data to more effectively manage our safety program. The software also provides real-time reporting via email to Chamberlin's senior management team. It sets corrective action dates and reminders to ensure that action is taken if it is required. Project managers review Predictive Solutions reports with their assigned superintendents and safety coordinator daily to develop action plans to improve job site safety and awareness.
Benefits of Chamberlin's Predictive Solutions Job Safety system include:
Significantly reduced at-risk behaviors, resulting in lower frequency and severity of incidents
Custom and detailed risk management reports from behavioral-based observations
Ability to see what risks are present, who is involved, which risks are more severe, priority of the risks, and corrective actions being taken to mitigate risks
Creating timely communication of safety results and thus real accountability at all levels of the company and assist management to set milestones for improvement.
Fleet Safety
Chamberlin educates our employees on company driving policies and safe driving tips. Vehicle safety is communicated in new-hire orientation and reiterated in frequent driver safety bulletins by the Chamberlin Safety Department to all employees authorized to drive for the company. Motor Vehicle Records are run upon hire for those who will be an authorized Chamberlin driver and re-run every six months. Chamberlin installed SmartDrive SmartDrive's video-based safety program to enhance their fleet safety efforts and reduce unsafe driving behaviors. This identifies risky driving that leads to collisions so supervisors can deliver more effective driver coaching before an accident happens. In the first year and a half, Chamberlin saw a 92% reduction in rear-end collisions.
Check out this article on how SmartDrive has helped improve Chamberlin's fleet safety.