Chamberlin Proactive Roof Asset Management (PRAM)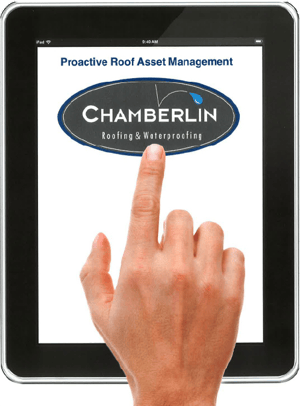 Knowledge about your building is powerful, but digging through file cabinets or old boxes of documents to find an invoice or warranty is the last thing you want to do.
Online access to information about your commercial roof is now simple, whether you manage one building or an entire portfolio of facilities. With Chamberlin's Proactive Roof Asset Management program you will know the exact condition your roof systems are in at all times.
Proper care and preventive maintenance is the best way to extend your roof's life and find small issues before they become larger and more costly. Regular assessments can save you time and money and help you budget for future repairs or replacement, while also meeting the manufacturer's warranty requirements.
Semi-Annual Surveys
Visual inspection and audit of roof conditions
Debris removal and upkeep
Required for most manufacturer warranties
Condition Report
Photo and video documentation of current condition
Report of deficiencies and expected life cycle
Allows you to make informed decisions
Online Roof Asset Management
Access your information from any device
Easily share information with decision makers
Archived roof data assists with budgeting
Push-Button Service Request
Schedule service with the click of a button
Track progress from dispatch to resolution
Preferred customer status
For more information about our PRAM program, contact your local Chamberlin office to learn how to customize a plan to protect your roof investment and access our online system today.
Don't Have an Account? Contact Us to Get Started