Chamberlin Waterproofs New Oklahoma University Cross Village
Posted on: September 10, 2018 5 AM

Cross Village is a new on-campus living option for Oklahoma University students. The 500,000-square-foot, mixed-use community comprises 413 student housing units and 40,000 square feet of retail, dining and entertainment space in Norman, Oklahoma. Clocking in at approximately $194 million, the complex includes four four-story residential buildings, a 1,000-space parking garage, two workout facilities, eateries and a marketplace with fresh fruit and produce sourced from local producers within a 250-mile radius of the school. It also boasts a black box theater, dance recital space and health clinic. This luxury living space will bring new restaurant concepts and allergen-free food choices to campus and offer a high-end, convenient residence for the students.
Opting for a lease-to-buy option from owner Balfour Beatty allowed the university to make this impressive investment in their campus. This is the first time OU has used this process, and they join the ranks of other Big 12 universities that have been utilizing this option to enrich their schools.
Chamberlin's working history with the general contractor and extensive experience led to them being selected to waterproof the residential complex. A peel-and-stick system was selected for the below grade waterproofing. The skin of all four buildings received a spray-applied air barrier, firestopping, acoustical sealants and joint sealants. In the parking garage, Chamberlin installed traffic coating, spray-applied water repellents, joint sealants and expansion joints.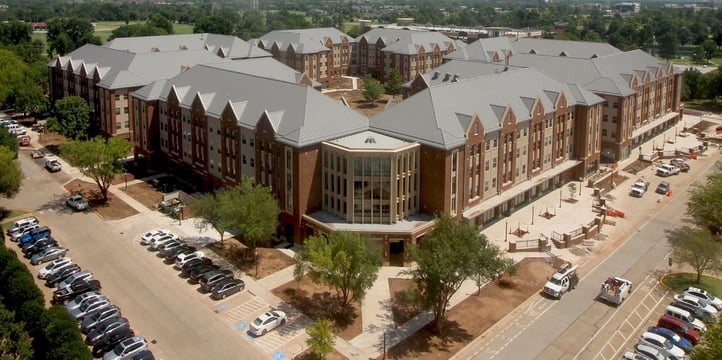 High-Quality Installations
Quality control starts before installation even begins. Crew members installing the air and moisture barrier inspected the material before use to make sure it was in proper condition for application and confirmed the sheathing seams were properly sealed for a watertight system. As the material was spray-applied, crew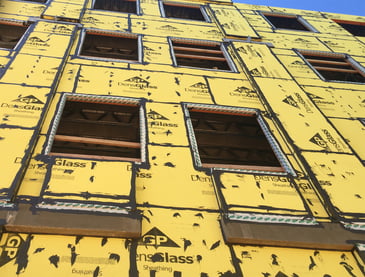 members tested for proper millage periodically each day striving for a quality install and optimal performance.
Prior to installing the joint sealants, Chamberlin conducted an adhesion test mockup to ensure the product and substrate worked together to create optimum adhesion. The installation process started with cleaning each joint so the substrate was prepared for proper sealant adhesion. The crews carefully installed the backer rod utilizing the proper width to depth ratios and finished by installing the sealant resulting in smooth, concave joints. Periodically, Chamberlin conducted routine adhesion checks as verification throughout the project duration.
The Chamberlin team conducted quality checks and were consistently observing and mentoring the crews for appropriate preparation, installation techniques, proper adhesion and desirable aesthetics. The general contractor used BIM 360 to send out daily punch-lists for quality, and Chamberlin was one of the few contractors on the project who cleared out their punch list weekly. The general contractor was appreciative of their attention to detail and pleased with the quality of their installations.
Tight Timeframe
This was an extremely fast-paced project, as all four buildings and the garage were built in one year. With the compressed schedule, Chamberlin had to execute multiple scopes simultaneously. As soon as the air barrier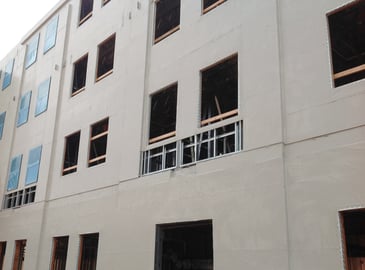 application was complete on one building, crews would begin joint sealants on that building as other crews moved to the next building to continue air barrier application. The firestopping scope was on-going throughout the project.
To accommodate for all of these moving parts and to make sure crews were working everywhere they had access from day to day, Chamberlin project manager made a schedule weekly. Each week, the schedule was adjusted as necessary to maximize productivity.
Before job start up, the project team held an initial pool plan to determine milestone dates. Throughout the project, weekly pool plan sessions were held to proactively assess progress and determine plans to make up lost time. Chamberlin's site superintendent attended these meetings, and each subcontractor discussed their timelines and needs so everyone achieved one master plan together.
The modular framing system used on the project also contributed to meeting the tight schedule. Instead of being built piece by piece on site, it came in structural components that were assembled in only a few steps. The process also allows trades to begin work below as assembly continues on upper floors, saving additional time.
Expansion Joint Solution
In the parking garage, the block outs for the expansion joints were wider than the specified product to be installed. One possible solution would be embedding a plate to close in the joint, but that would require drilling into the concrete. The concern with this approach was disrupting the post-tensioned cables in the parking deck,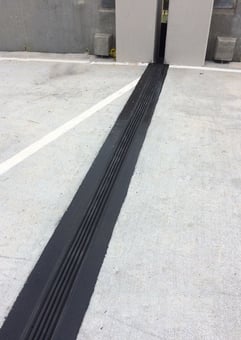 which could affect the structural integrity of the parking garage.
Chamberlin did their research and found one manufacturer who produces a joint gap reducer that is installed on the wall of the joint with an epoxy adhesive. A ¾-inch gap reducer combined with a larger expansion joint would allow Chamberlin to install in this condition. However, this discovery was made three weeks from project finish, so a great deal had to be done in a short time. Chamberlin started by getting the new manufacturer approved by the project team. They then worked with the manufacturer to release the materials they currently had in stock, so crews could start installing immediately. The rest of the material was ordered and shipped. Chamberlin increased manpower to accommodate for the short time frame and completing the additional step of installing a gap reducer in each joint. The installation was completed on time.
Planning and Execution
The sheer size of this project, along with the compressed timeline, meant Chamberlin had multiple crews working on multiple buildings throughout the project. Coordination and scheduling of equipment, material and crew members, plus working around other trades, took clear communication and thorough planning. Chamberlin's project supervisors worked hard to provide the crews each day with a clear understanding of their tasks, the tools they needed to do the job and properly inspected equipment in the right location to maximize each crew member's time on the jobsite.
College football further compounded the difficult schedule. Chamberlin crews worked weekends throughout much of the project to stay on track, but the project site had to close during home football game weekends. Also, the busy college campus has a lot of foot traffic. The students' safety was top of mind, and crew members were careful even just driving to and from the project site. All work areas were fully fenced off to prevent pedestrians from wandering unaware into a hazardous situation.
Maximizing Production
Being proactive was vital to productivity on this project. When planning the schedule, a certain percentage of lost time was predicted due to weather during the cold months, as some of the waterproofing products could only be installed at certain temperatures. Chamberlin, with weather conditions in mind, boosted manpower early to meet schedule needs before weather restrictions arose.
Also looking ahead, Chamberlin's superintendents kept an eye on the other trades' progress, so crews could start their scopes as soon as possible. When an area became available for our installation, Chamberlin's superintendent directed crews to begin work immediately instead of waiting to be asked by the general contractor.
Chamberlin crews installed over 240,000 square feet of air barrier in only four months with up to three spray rigs being utilized at the same time. In the parking garage, 320,000 square feet of water repellent was applied in just two weeks. Despite the large scale of work and challenges faced, Chamberlin successfully completed all scopes of work on or ahead of schedule with high-quality installations and zero safety incidents.
Want to hear what our customers are saying?
Subscribe Today!
Stay-in-the-know and subscribe to our blog today!