2014 ASSOCIATED GENERAL CONTRACTORS (AGC) OF AMERICA OUTSTANDING ACHIEVEMENT AWARD IN JOBSITE SAFETY
Posted on: October 22, 2014 5 PM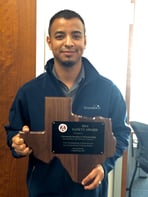 Chamberlin was awarded the AGC of America Outstanding Achievement Award in Jobsite Safety. This award recognizes excellent safety programs and practices that lead to less safety incidents on the jobsite. Key elements of Chamberlin's safety culture are our values, effective education and training programs, safety planning and emergency preparedness, auditing and evaluation, strong leadership from upper management and vehicle safety. Read more about Chamberlin's safety program here.
Watch this video to learn the "Importance of Safety at Chamberlin."
Subscribe Today!
Stay-in-the-know and subscribe to our blog today!