Chamberlin Moves to Farmers Branch
Posted on: October 13, 2015 5 AM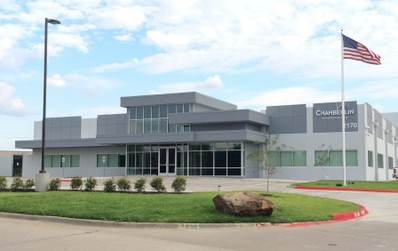 Chamberlin Roofing and Waterproofing moved their North Texas office to their newly constructed building in Farmers Branch, TX, just a few miles from their previous DFW office location. Though the move was not far, the two offices are worlds apart. The new 28,000 square foot facility has a sleek, modern design created by Alliance Architects. Schwob Building Company was the general contractor, and Chamberlin completed the roof system, as well as the waterproofing, elastomeric coating, warehouse flooring and all control joint work themselves.
The energy efficient building contains some unique features, such as restroom countertops made out of recycled porcelain from sinks, bathtubs and toilets. LED lighting throughout the building and sensor faucets on all sinks lend to energy savings. The 14,000 square foot warehouse space is ideal for Chamberlin's in-house sheet metal fabrication shop. The craft and safety training room and main conference room both have cutting edge technology, equipped with the latest A/V controls, allowing all Chamberlin offices across Texas and Oklahoma to collaborate and communicate smarter and faster to better serve our clients.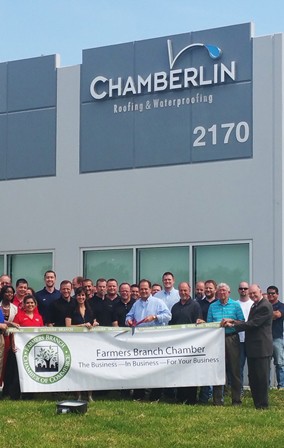 Founded in 1897, Chamberlin branched out from Michigan to Texas in 1978, when they opened their first office in Houston, TX. Since then, they have grown to serve Texas, Oklahoma, Louisiana, Arkansas and New Mexico with offices in Houston, Farmers Branch, Austin and San Antonio, as well as Moore and Tulsa, Oklahoma.
The ribbon cutting ceremony for their new location in Farmers Branch was held on Friday, August 14, 2015 and attended by several representatives from the City of Farmers Branch. The new building has already been awarded a Tilt-Up Achievement Award from the Tilt-Up Concrete Association (TCA). The TCA Achievement Awards program was established to honor projects that use site-cast Tilt-Up concrete to introduce new building types, advance industry technology and provide unique solutions to building programs. The winning entries illustrate the variety, beauty, and flexibility of the Tilt-Up construction concept, as well as Tilt-Up's unique ability to get the job done faster and for less money.
Subscribe Today!
Stay-in-the-know and subscribe to our blog today!