Chamberlin Honored with Firestone's Distinguished Roofing Industry Award
Posted on: July 23, 2010 5 AM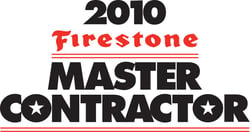 Firestone Building Products Company, recently presented Chamberlin Roofing & Waterproofing with its prestigious 2010 Firestone Master Contractor Award. Firestone presented the firm with this honor for its consistent excellence in commercial roofing installations over the past year.

"We congratulate Chamberlin Roofing & Waterproofing for upholding Firestone's high standards in roofing system installations and demonstrating superior craftsmanship", said Mike Vall, president of Firestone Building Products. "Firestone is honored to recognize the roofing firm for its dedication to roofing system excellence."

Since 1988, the Master Contractor program has applauded outstanding roofing firms for achieving the company's set level of criterion. This year marks the 13th time Chamberlin has been named a Firestone Master Contractor. Firestone annually awards Master Contractor status based on Quality Points accumulated for exceptional inspection ratings and total square footage for all Firestone Red Shield warranted EPDM, TPO, metal and asphalt roofing system installations completed the previous year.
Subscribe Today!
Stay-in-the-know and subscribe to our blog today!