English - Second Language Courses
Posted on: January 24, 2023 3 PM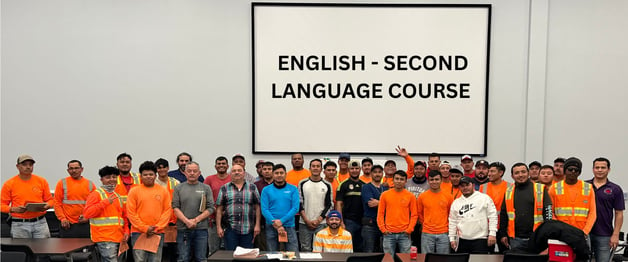 An important aspect of Chamberlin's quality initiative is Chamberlin University. Chamberlin 'U' was conceived and developed in 2006. It was essentially implemented as part of our strategy to prepare Chamberlin for the future by earnestly training and educating our own workforce. Chamberlin has recently partnered with Community Family Center through Construction Career Collaborative (C3) for English – Second Language courses.
One class has already graduated the basic course which is a ten-week class, meeting twice a week. The students in this ESL course included both Chamberlin and Karsten employees. There was a high demand between Chamberlin and Karsten for the basic ESL course, allowing for it to fill up in no time. In addition to this, many of the students that participate in the basic ESL course are eager to continue learning their second language and will have the opportunity to do so in the Advanced ESL course. The Advanced ESL course offered includes a heavy focus on proper grammar, writing skills, along with developing a more advanced vocabulary and terminology. This upcoming Advanced ESL class already has 33 students enrolled to participate. Chamberlin University helps us deliver more to our clients and these English classes will provide many field employees the skills to do just that.

Subscribe Today!
Stay-in-the-know and subscribe to our blog today!