Posted on: October 12, 2020 5 AM
SUB-ROOFING APPLICATION
Stadiums and entertainment venues are often multilevel concrete structures with multiple expansion and control joints. These joints help the building expand and contract as the building moves over time without causing cracks or failures in the materials. While the joints protect the overall structural components, the sealants in the joints typically only last three to five years. When they fail, the joints allow moisture and spilled liquids to flow between decks and leak onto whatever is below. In most venues, this could include suites, concessions, locker rooms, electrical rooms, office space and janitorial facilities. Often times, the owner does not choose to re-caulk all joints in a stadium at the time of failure. This, in addition to weathered traffic coatings and cracks in the concrete, can lead to water leaks. A sub- roofing system can be the solution.
A sub-roofing system consists of specialty engineered metal panels suspended by rods anchored to the underside of structural members. Each system is specifically designed for the structure it will be hanging from to drain any moisture and liquids to a gutter leading to a storm system. The design and installation have to be precise due to the MEP equipment that will surround it.
While the structure is designed for movement, stadium and entertainment venues have large amounts of pedestrian traffic on the structure at once, sometimes causing significant movement. The sub-roof can easily be adjusted to accommodate this by changing the height of the panels on the rods.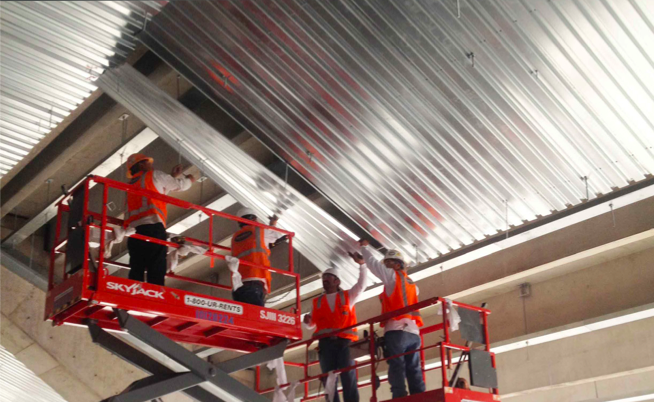 SUB-ROOFING LESSONS LEARNED
Chamberlin has extensive experience with sub-roof systems and their applications. We are capable of assisting the design team professionals by determining the proper means and methods of install in a new construction project. Then our team will fully execute the installation while coordinating with the many other trades involved. Since some MEP equipment will need to be suspended below the metal roof, proactive planning and a deep understanding of how the system works is critical to the installation and proper functionality.
Our team has hands-on experience and training in this specific type of system that can be a real game-changer for stadium and entertainment venues. Contact us for more information today.
Subscribe Today!
Stay-in-the-know and subscribe to our blog today!