Elastomeric Restoration Systems: A Viable Alternative to Roof Tear-Offs
Posted on: January 20, 2016 6 AM
By: John Linnell, Everest Systems Co.

Around 30 years ago, there was a major shift in the mainstream commercial roofing industry away from the traditional built-up and gravel-type roofs to membrane roofs such as Modified Bitumen, PVC and TPO. Many of these membrane roofs are now nearing the end of their service life. In fact, the Single Ply Research Institute estimates that roughly 20 million square feet of single-ply membrane is at the 20-year mark. When an old-school roofer locates this type of roof they might say, "Mr./Mrs. Building Owner you need to replace that roof!!" However, unlike the gravel built-up roofs, these membrane types allow a knowledgeable commercial roofer to give the building owner not only total replacement but a restoration option as well in the form of elastomeric restoration systems.

Elastomeric Roof Coatings have been used in the commercial roofing industry since the early 1980s, and since their inception have continued to increase market share. Dow Chemical Company estimates that the global coatings market will hit 20 billion dollars by the end of 2016. Within that 20 billion, roughly four billion are attributed to architectural coatings, with about one-third of that being roof coatings. The restoration option has proven to be far more than a short-term repair, often chosen for its high reflectivity benefits that can typically save the building owner money in energy costs. Along with the energy benefits, elastomeric systems also offer a viable sustainable solution for an aging roof at a significant cost savings to the alternative of tear-off and replacement. An added benefit to a building owner is that often a coating system can be fully expensed in the year of installation as a repair and maintenance expenditure.

The following is a profile of a commercial roof coatings project for a school district in central Kansas that highlights some of the benefits previously outlined about restorative roof coating systems and the installation process.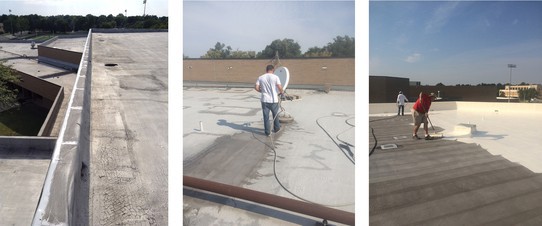 Project Profile Specifications
Size: 50,000 Square Feet
Age of Roof: 20 years old
Insulation value: R-20
Deck: Structural Steel
Substrate: Smooth Asphalt 2 Ply BUR with aluminized asphalt topcoat and Granulated Modified Capsheet with aluminized asphalt topcoat.
Project Overview:
A school district in central Kansas was starting to have some aging issues with their asphalt roofs. In some areas, the cap sheet was "bubbling" and "delaminating," in other places the seams were failing, and in yet others the parapet walls and penetrations needed to be re-flashed. The District was looking for the most cost effective option while still hoping to get a viable 10-year warranted system for the building. The School District was not aware of white reflective roof coatings as an option for their aging roof. Throughout the years many contractors had been in the school district office talking about removal and replacement of the roof system. The specific company who was awarded this project was the only contractor to offer a white reflective roof coating option.
Substrate Preparation:
Most elastomeric coating system guidelines require a properly prepared substrate before the application of the coating restoration system. For this particular system, there were some concerns that needed to be addressed. First, there were numerous delamination bubbles in the granular modified bitumen cap sheet. These needed to be cut out and repaired with similar materials. Second, there were a number of hail-damaged areas that were sealed. Third, all minor deck repairs were made and flashed-in with repair sealant. Last, the flaking aluminum coating that was currently in place needed to be cleaned and removed as much as possible. Coating systems are only as good as what they are applied to, and in this case the aluminum coating was nearly 70% removed from the surface in order to obtain a good substrate for application. Commercial rotary deck scrubbers along with 3500 PSI Turbo Tip pressure washers were used to clean the substrate before basecoat was applied.
Coating System Installation:
Once the asphalt BUR was properly prepared, a bleed blocking basecoat was applied at a rate of 1.5 gallons per 100 square feet in one application pass.
After the basecoat cured, all-purpose urethane hybrid repair sealant was applied to all flashings and penetrations, as well as the asphalt terminations on top of the parapet walls. After all sealant was applied, a high tensile acrylic coating was applied at a rate of 1.5 gallons per 100 square feet in one pass. The high tensile acrylic coating was chosen as the topcoat because of its ability to stay whiter longer than traditional acrylic coatings. It also has very strong tensile strength properties, which in turn help with foot traffic durability on the roof. And lastly, the high tensile finish coat has a glossy sheen to it which makes it a much brighter and aesthetically pleasing look.
Final Job Considerations:
Overall, the project was completed on time and on budget. An added benefit was that the low VOC products that were used made it possible for the students and teachers to continue with classes as usual. The initial roof substrate temperatures were ranging in the 150 to 165 degree Fahrenheit range before the system was applied. After the system was installed, the substrate temperature was 90 to 100 during the hottest time of the day. This drop in thermal shock on the roofing system will significantly extend the life of the roofing system. Additionally, the savings in amount of weight of material thrown in the landfill is significant. This was not only a cost savings for the school but provided a much greater environmental benefit. Lastly, the most important consideration from the perspective of the District's decision makers was the cost savings benefit to the building owner. Below is a detailed outline of a 30-year life cycle cost of a coating restoration system versus the traditional tear off and replacement.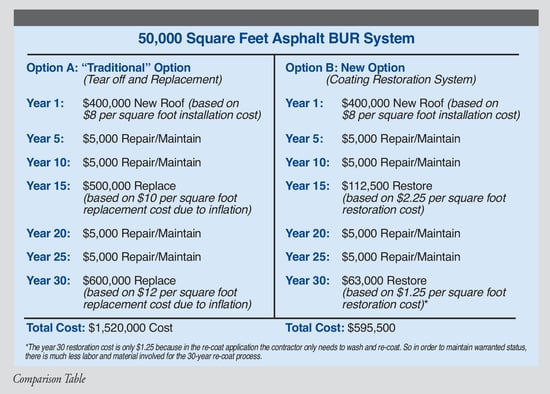 As you can see in the above comparison, when you look at a 30-year life cycle cost analysis it makes perfect sense to offer a restoration system at year 15 with a re-coat of the restoration system at year 30. This approach can be up to 50% cheaper over the 30-year period than the traditional tear off/replacement approach.
Conclusion:
Roof coatings are the fastest growing segment of the commercial roofing industry. There is no arguing that when a coating restoration system is done right and applied to the right roof, a building owner can often save significant money by converting his roof to a sustainable solution rather than just removing it. As the roofing industry evolves, liquid applied "manufactured-in-place" roofing systems are becoming more and more accepted and viable. Roof coating technologies have never been better which is giving building owners and decision makers fantastic new cost saving options in lieu of total tear off and replacement.
John Linnell has worked in the coatings industry since the 1980s. With a Chemistry Degree from the Auckland Institute of Technology in New Zealand John has worked in every facet of the industry from process engineering and quality control to new product development and sales. With his expertise, he has served on the board of Reflective Roof Coatings Institute and is a founding member of the Cool Roof Rating Council. John can be reached at 1-800-575-8966 or jmlinnell@everestsystemsco.com.
Subscribe Today!
Stay-in-the-know and subscribe to our blog today!