Chamberlin Wins AGC APEX Award
Posted on: November 20, 2012 6 AM
Chamberlin Roofing and Waterproofing is a recipient of a 2012 AGC APEX Award for their roofing work performed on the Houston Food Bank project. The APEX award was given by the Associated General Contractor's (AGC) Houston chapter.
Chamberlin won the APEX award for their work performed on the Houston Food Bank in the "SC-7 Thermal/Moisture Protection" Specialty Contractor category. The Houston Food Bank purchased and renovated a 300,000 sq. ft. warehouse with plans to greatly increase their output to better serve the people of Southeast Texas. The roof replacement portion of the facility's renovation was particularly important, and Chamberlin Roofing & Waterproofing approached the project with a goal of providing the most economical, high quality installation possible. Chamberlin replaced no less than six different existing roof systems on the facility.
Evaluation criteria for the APEX award include quality of workmanship, contribution to the community, timely completion and difficulty of construction. The APEX award recognizes firms for their excellence in construction, their valuable contributions to the community and their demonstrated commitment to skill, integrity and responsibility.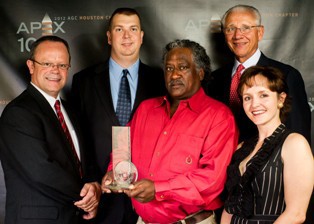 Pictured left to right from Chamberlin; Doug Combes, senior vice president; Tim Shaw, roofing estimator; Miguel Pecina, roofing general superintendent; John Kafka, president & CEO; and Monica Keels, marketing manager.
Subscribe Today!
Stay-in-the-know and subscribe to our blog today!