1st Place Commercial Concrete Contractor
Posted on: June 27, 2018 5 AM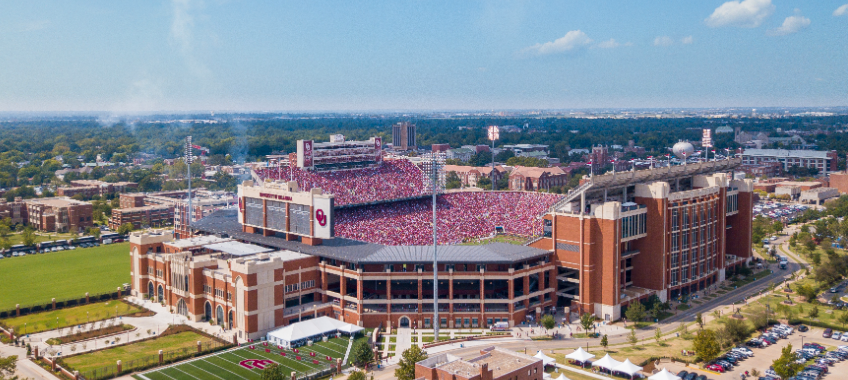 Chamberlin was honored to receive CoatingsPro's 1st place Award in the Commercial Concrete category for their work on the Gaylord Family Oklahoma Memorial Stadium. This program recognizes projects that demonstrate excellence in the field of high-performance coatings.
The recent expansion of the Gaylord Family Oklahoma Memorial Stadium included adding nearly 8,000 seats to the south end zone connecting the east and west stands, enclosing the formally U-shaped stadium into a complete bowl. Additional restrooms, concessions, a 46,000-sqaure-foot plaza, a covered upper concourse and a redevelopment of the Barry Switzer Center were also parts of this extensive expansion.
A new west stadium concourse nearly doubled the existing fan space in that area while media, broadcast and game operations areas on the west side of the facility were completely reconstructed, adding more than 32,000 square feet to those areas equipped with the latest technology.
A total project cost of over $350,000,000 puts OU's renovation in the same ballpark as fellow Big 12 Conferencers Texas A&M and Baylor University when it comes to stadium construction.
Chamberlin installed 8,000 square feet of BASF MasterSeal 615 Dampproofing below-grade for the expansion, 106,000 square feet of roller-applied traffic coating inside the bowl, 127,000 linear feet of gun-grade joint sealants on the exterior masonry, 4,000 linear feet of expansion joints in the stadium seating, as well as gun-grade site caulking. A Genie 80-foot boom lift was used for installation of the joint sealants on the exterior of the stadium. They also installed 97,000 square feet of Tremco Tremproof 250 GC cold-applied waterproofing at split-slab conditions on the elevated terrace decks. The liquid waterproofing was squeegeed onto the concrete deck, topped with a drainage board and tapered insulation before the topping slab was poured.
Check out some of Chamberlin's other sports and entertainment projects here.
Subscribe Today!
Stay-in-the-know and subscribe to our blog today!