Service from a Past Era
Please allow me to introduce myself...As the spokesperson for Chamberlin Roofing & Waterproofing, people know me, quite simply, as the Chamberlin Man. I represent the courteous, professional and trustworthy service our entire team offers each and every day.
At Chamberlin we deliver more than quality work. We deliver a positive project experience through our continued commitment to the values we set in place more than 100 years ago. Values like diligence, pride, honesty, commitment, loyalty and ingenuity are the guideposts of our work.
The Ten Commandments of the Chamberlin Man
Here I am looking rather dapper in a 1940s circular of my "Ten Commandments." In my day and age it was common for companies to stand for fair, personalized service. The level of service and the values The Ten Commandments of the Chamberlin Man brings to the job aren't as common in all businesses today, but they're still the code that the Chamberlin team lives by.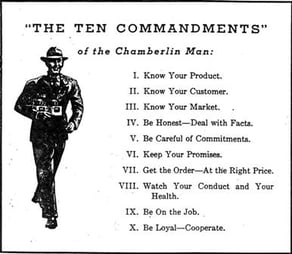 I. Know Your Product, II. Know Your Customer, III. Know Your Market: Our entire staff works diligently and takes great pride in knowing our products, customers and the market.
IV. Be Honest - Deal With the Facts: We know that honesty is the best policy and shoot straight with our clients.
V. Be Careful of Commitments, VI. Keep Your Promises: We try never to over commit. We work hard to follow up on any and all our promises by doing what we say we are going to do.
VII. Get the Order - At The Right Price: We do what it takes to win business. That is, developing relationships, offering fair pricing and bringing new ideas and solutions along with superior capabilities.
VIII. Watch Your Conduct and Your Health: At Chamberlin, safety is more than just talk. It's a way of life and an ongoing process of training and commitment.
IX. Be On The Job: We are "present" in the work that we do, paying attention to the details and it shows in the quality of the work we deliver.
X. Be Loyal - Cooperate: We are loyal to each other and our clients. We're a team, and by working together we deliver.
Though stated a little differently, the Chamberlin men and women of today still walk the walk of the sharp dressed, and may I say very handsome, "Chamberlin Man." In fact, the brand of service we provide is very much that of a past era. Personal. Professional. Reliable. And while our client service is of a past era—the services, technologies and application techniques we bring to the job are some of the most advanced available. The marriage of the past and present is what makes Chamberlin both accountable and capable today.
Sign Up to Get Emails from the Chamberlin Man
Here from him twice a month with current information from the A/E/C/ industry.