Dallas Cowboys World Headquarters and the Ford Center
Frisco, Texas
---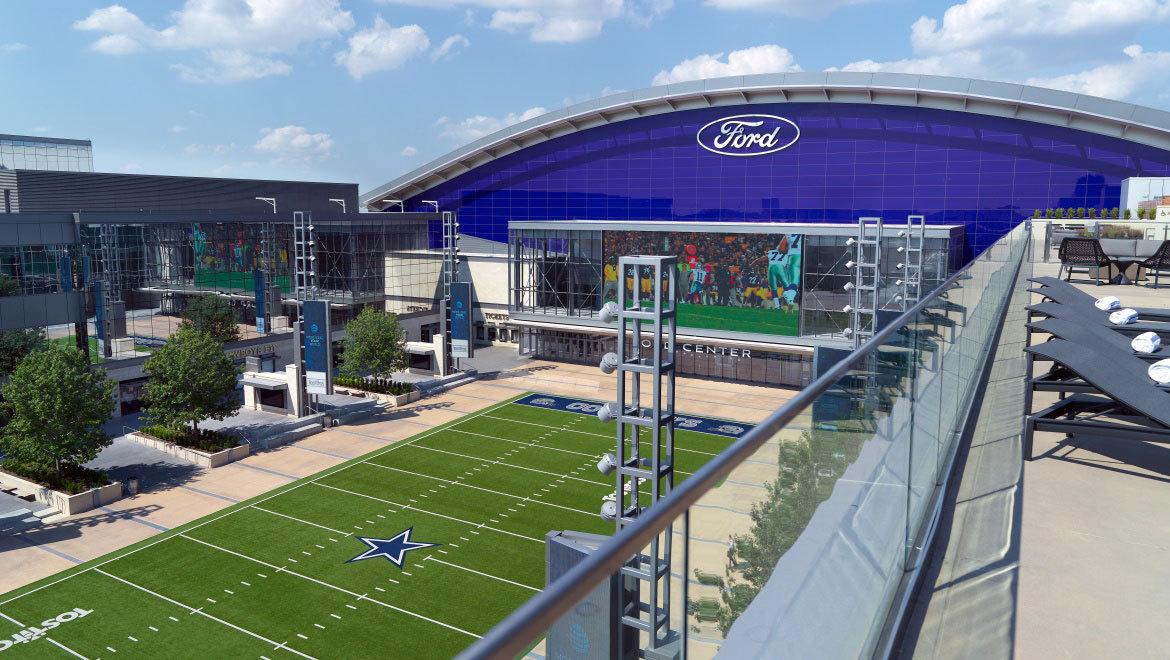 Service Type:New Construction Waterproofing
Scope:Temporary waterproofing, hot-fluid rubberized asphalt waterproofing, vehicular traffic coatings, water repellents, thermal insulation, spray applied air barriers, remove/replace air barrier, sheet metal flashing and trim, roof pavers, firestopping, joint sealants and expansion control
Description:
Frisco, TX, now claims one of the most dynamic development concentrations in America with their "$5 Billion Mile," a one-mile stretch of real estate developments under construction along the Dallas North Tollway. The first of these developments is a $1.5 billion complex called The Star, a 91-acre campus encompassing the Dallas Cowboys World Headquarters, The Ford Center, two parking garages and two outdoor practice fields.
The Dallas Cowboys World Headquarters is a six-floor office building with a two-level
parking garage. The Ford Center is a state-of-the-art, 510,000 square foot indoor athletic facility containing the Dallas Cowboys indoor practice field, training room, office space and hydrotherapy. Chamberlin worked on both facilities and their parking garages installing approximately 320,000 square feet of spray-applied air barrier, 215,000 square feet of hot fluid-applied waterproofing, 200,000 linear feet of sealants and 125,000 square feet of sealer. Chamberlin's scope also included firestopping, water repellents, sheet metal flashing and trim, pavers and expansion joints. This massive scope was completed in 16 months with a total contract amount of nearly $5,000,000.
For Chamberlin's hard work on the Dallas Cowboy's World Headquarters they received the TEXO Distinguished Building Awardand the ABC National Recognition.
Learn more about Chamberlin's work on the Dallas Cowboys World Headquarters here.
Category:Sports & Entertainment
Owner:Blue Star Development Company
General Contractor:Manhattan Construction Company
Contract Amount:$5,000,000
Get in Touch with Us Today!