OSU Monroe Street Parking Garage
Stillwater, Oklahoma
---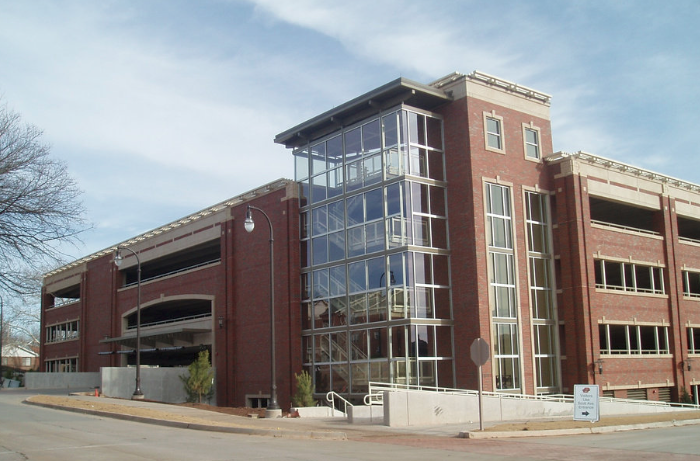 Service Type:Remedial Waterproofing
Scope:Joint sealants
Description:
The Oklahoma State University (OSU) Monroe Street parking garage was first built in 2008. Located at the corner of Monroe Street and Hall of Fame Avenue, it is near the hub for the OSU transit system which allows students to easily get around campus and the City of Stillwater.
Chamberlin Roofing & Waterproofing was contracted during the original construction of this parking structure to perform waterproofing services. Nine years later, the natural movement of the garage caused by settling and other thermal and structural impacts resulted in cracks and spalling in the concrete. Sizable areas on the vertical walls and overhead were deteriorated and breaking off, causing possible safety hazards for pedestrians and vehicles. Extensive cracks in the slab were open to moisture, which in colder temperatures would freeze and further expound the problem by worsening the cracks and damaging more concrete.
The parking garage was in need of a renovation, and quick. The project was scheduled to take place during winter break while most students were not on campus. This allowed only two weeks for the four-story parking structure to be restored. Chamberlin was ready to step up to the plate and return to their old stomping grounds to work on the OSU Monroe Street parking garage once again. This time around Chamberlin performed concrete wall repair, beam and column repairs, embed repairs, slab crack sealing, joint sealant replacement and epoxy injections.
Category:Parking Garages
Owner:Oklahoma State University
Contract Amount:$30,000
Get in Touch with Us Today!