The Driskill
Austin, Texas
---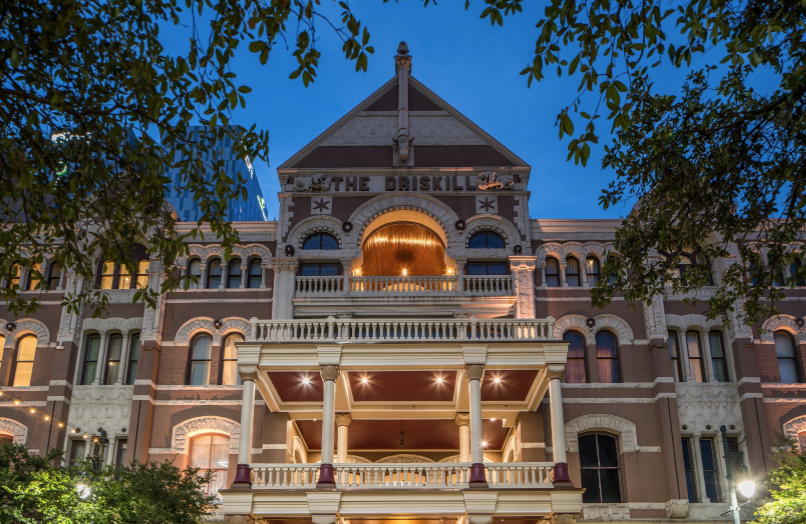 Service Type:Remedial Waterproofing
Scope:Concrete demolition, concrete installation, framing, sheet metal flashing and trim, balcony waterproofing and plastering
Description:
The Driskill Hotel in Austin, Texas, is rich in history dating back to the 1800s. Colonel Jesse Lincoln Driskill, a Tennessee native and cattleman, purchased the land for $7,500 with his earnings from cattle auctions. The plot was transformed two years later in 1886 to a prominent hotel at a total cost of $400,000. It was slated as "the finest hotel south of St. Louis."
Due to age, The Driskill exhibited signs of water damage to the soffits and balustrades of the four major balconies – two on the Sixth Street side and two on the Brazos Street side. With Chamberlin's extensive experience in building repair and restoration, they were brought on as the prime contractor to remediate the water intrusion and restore the balconies. The project scope included balcony deck replacement and waterproofing, balustrade restoration and façade repair.
The safety of the hotel employees and guests, pedestrians, Chamberlin's employees and subcontractors was top priority. Chamberlin installed an intricate scaffolding system with a protected entrance for pedestrians and guests to access the hotel. Chamberlin strictly adhered with city compliance for right-of-way for pedestrians, vehicles and partial street closures. Also, water barricades and fencing were installed around the work site to protect hotel guests, employees, and pedestrians from passing underneath the balconies where construction was taking place.
Building Consultants, Ltd. conducted a thorough building envelope investigation to uncover the extent of water damage. It was apparent the soffits were compromised, however the investigation identified other areas that needed repair as well. The consultant cut holes into the soffit to observe the structural integrity and concluded the joists were heavily damaged and needed to be replaced. The same conclusion was reached for the extensively deteriorated decks on all four balconies.
Chamberlin began with the demolition of tile, concrete slabs, existing waterproofing, soffits and structural framing. Chamberlin's crew then installed new three-quarter-inch plywood decking, joists, beams and framing. Next, a loose-laid reinforced PVC single-ply waterproofing system was installed. This included an 80-mil sheet waterproofing membrane, a membrane underlayment, drainage composite and protection layer, termination bars and PVC flashing and fasteners. Electronic Leak Detection (ELD) testing was then performed to check for membrane water tightness.
To conclude the balcony restoration, all the exterior columns, window trim, balustrades and crown molding were painted. The Driskill Hotel was left with watertight balconies that preserved the historical integrity of the esteemed Austin hotel.

Chamberlin was honored to receive the Sika Sarnafil Project of the Year Awardalong with others.
Category:Historic
Owner:Hyatt Hotels Corporation
Consultant:Building Consultants, Ltd.
General Contractor:Chamberlin Roofing & Waterproofing
Contract Amount:$1,250,000
Get in Touch with Us Today!