Woodall Rodgers Park
Dallas, Texas
---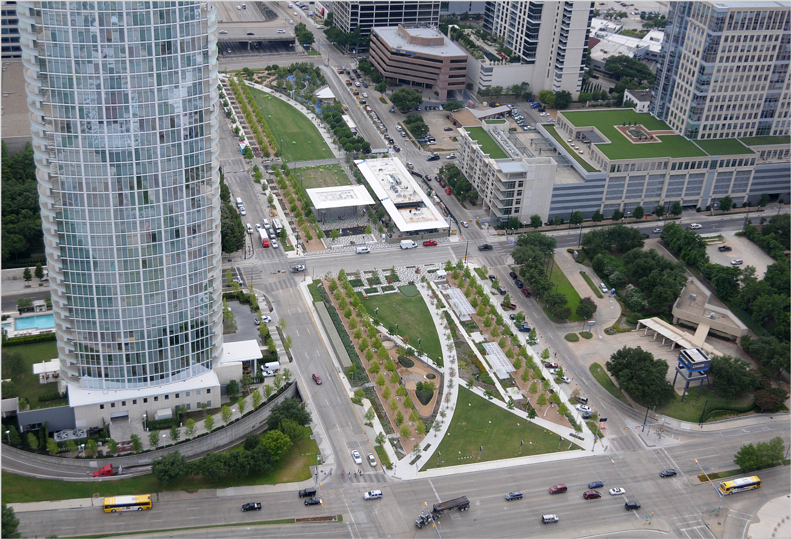 Service Type:New Construction Waterproofing
Scope:Joint sealants, hot-applied waterproofing, composite drainage board, metal flashing, expansion joints and flashing fabrication
Description:
In October 2010, Chamberlin embarked on a project that would mark a time of change for the City of Dallas and its residents. Woodall Rogers Freeway is a major highway that runs just north of Downtown Dallas directly through the city. It is a connector freeway between two other large highways. When Woodall Rogers Freeway was constructed in 1962, highways were the most popular mode of transportation. City officials and wealthy landowners were building homes and purchasing land outside of the Dallas city limits, thus making highways extremely appealing.
In 2000, Dallas' population reached over two million people, and the highway infrastructure was no longer the most optimal means of transportation. Downtown and uptown were two of the most popular areas for nightlife, business, and residential growth, and there was only one thing standing between them: Woodall Rogers Freeway.
In 2002, the Dallas Real Estate Council funded a $1 million grant to connect uptown and downtown by building a park deck over Woodall Rogers Freeway. Allowing residents to have access to the entire city by means of biking, walking, and trolley would increase real estate growth, development and the revitalization of unused areas of the city.
The park deck covers an area of three acres and uses five and one-half acres of waterproofing materials. Chamberlin's 22-person crew installed hot fluid-applied waterproofing, root barrier and drainage board over an 18-month duration. The project was particularly challenging because vertical trenches were built into the design of the deck. Applying 400-degree hot fluid-applied waterproofing material onto a vertical surface requires safe practices and a high level of skill.
Klyde Warren Park is already a key component to the City of Dallas' growth and development, and Chamberlin is proud to have played a key role in redefining the infrastructure of Dallas.
Category:Government
Owner:Texas Department of Transportation
Architect:Jacobs Architects
General Contractor:Archer Western
Contract Amount:$1,600,000
Get in Touch with Us Today!