NEW ROOF FOR FORTUNE 500 HEADQUARTERS
Posted on: January 4, 2022 8 PM
Chamberlin Roofing & Waterproofing installed a fully tapered PVC roofing system for Charles Schwab's new headquarters in Westlake, Texas. The 1.1 million-square-foot campus is spread across 70 acres within Hillwood's Circle T Ranch development. Designed by Corgan, it was built in two phases with the second finishing mid-2021.
The property encompasses numerous amenities such as outdoor water features including Turner Lake overlooked by the employee dining room. All stonework, wood and fabrics were sourced from Texas-based providers. The modern, ranch-themed campus can accommodate approximately 6,000 employees. Charles Schwab joins other Fortune 500 companies who have relocated their headquarters from San Francisco to North Texas.
Brought on by general contractor DPR Construction, Chamberlin faced considerable challenges throughout the project from weather to design and worked with the project team to offer sustainable solutions.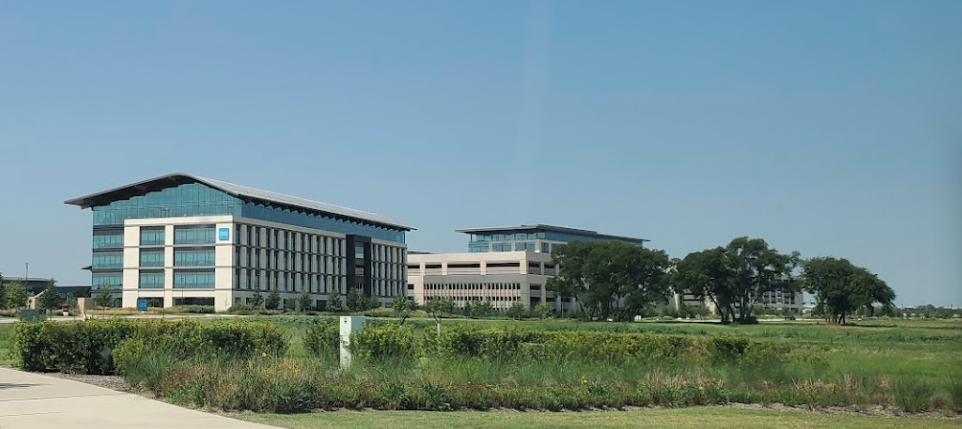 OUTSIDE THE BOX
The install began with two layers of adhered insulation followed by a full quarter inch per foot of adhered tapered insulation. Then, one layer of adhered DensDeck cover board was capped with adhered Sikaplan PVC membrane.
A concrete deck was the main substrate for the roof. Surrounding this was a metal deck overhang referred to as an outrigger deck. In between the metal and concrete decks was simply framing, leaving a gap for water to enter the building. None of the drawings or specifications clarified why the space was open or how to address water infiltration. Chamberlin met the challenge with some creative problem solving. First, the framing was boarded with plywood. Sika membrane was then installed on the plywood to prevent water intrusion.
The second part of the challenge was installing the insulation to seamlessly transition from the concrete deck to the metal deck. This took extra layers – up to 20 inches in some areas – and precise work with the tapering. For accurate installations one time, the first time, crew members started by loose laying the insulation boards to test the configuration before adhering to the substrate.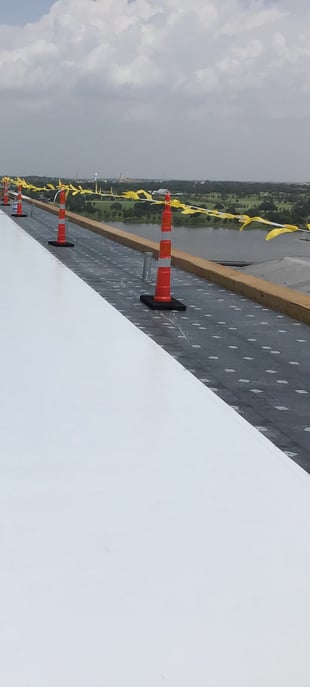 RAINY DAYS
A large portion of the roof deck was concrete, and excess rain leant to the project complexity. It delayed the project start as well as interior finish out. The substrate had to pass a moisture test of 5% or less for the materials to be able to be installed. Chamberlin made sure to have a crew on standby ready to start immediately on the days where work conditions were questionable. The crew worked overtime to help make up production as well.
The rainy weather also resulted in a very muddy jobsite. This proved difficult for cranes to access the building. The general contractor's crane was removed before all of Chamberlin's materials were finished loading. Chamberlin worked with Davis Crane to find a location with enough dry soil to get close enough to the building, set up a new crane and finish loading the materials to the roof.
IMPORTANCE OF SAFETY
Chamberlin holds safety as its primary focus on every project they undertake. They believe that no project can be considered a success if one of their team members gets hurt. Chamberlin has a dedicated team of safety professionals and their safety program and practicesa re preached from the top down. In preparation for the Charles Schwab project, a site-specific safety plan was developed as well as a Job Hazard Analysis (JHA covering each task on the job, potential hazards associated with those tasks and how to prevent those hazards from causing an accident.
Chamberlin provides their employees with the tools and knowledge to perform their jobs safely and effectively. Any specialized training needed was performed and evaluated and all equipment was inspected by a competent person daily before use. Full-time Chamberlin safety professionals made frequent jobsite inspections and recorded their observations on site with an electronic safety management system.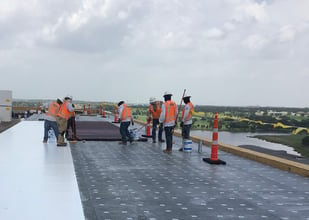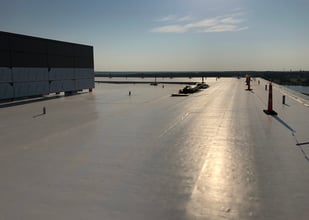 A CUT ABOVE
In the beginning, Chamberlin noticed an inconsistency with the Sarnacol AD adhesive. The material is a two-part system requiring a 50/50 ratio of each part to perform correctly. The parts are each dispensed from a pace cart machine and combined on the substrate. However, initially the materials weren't pouring evenly causing adhesion issues. After a visit from the Sika representative, it was determined the machine needed to be replaced. In just a couple of days, a new machine was located, ordered and crane loaded to the site.
Chamberlin performed QA/QC checks throughout the project. Daily checks for proper adhesive bead spacing and test welds were performed. Sika Sarnafil also performed QA/QC site visits throughout the projects. The result of Chamberlin's workmanship was a high quality, watertight installation.
Subscribe Today!
Stay-in-the-know and subscribe to our blog today!