Posted on: July 7, 2022 8 PM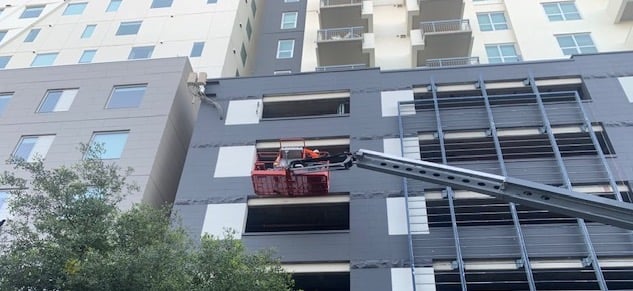 Chamberlin restored 21 Rio, a vibrant University of Texas at Austin student apartment complex.
21 Rio, a high-rise apartment complex with parking garage and retail storefront below, exemplifies a college lifestyle like no other. Situated in Austin's central West Campus neighborhood, 21 Rio offers luxurious and pet-friendly student apartments near The University of Texas at Austin. It offers exceptional amenities, including a pool deck with one-of-a-kind views and state-of-the-art fitness center. With a great location to campus, ample amenities to offer students and a vision for green living at the community, 21 Rio puts a unique spin on apartment living.
Originally constructed in 2009, time and weather had taken their toll on the building. 21 Rio was struggling with water intrusion and in need of rejuvenation. Chamberlin Roofing & Waterproofing was selected as the prime contractor to restore the skin of the building by face-sealing the envelope. The restoration crew began by pressure washing the building to prepare the substrate for the new MasterProtect EL 750 elastomeric wall coating they installed by hand rolling and spraying. High-performance hybrid sealant was installed at control joints and perimeters of the stucco prior to the coating, aging and compromised horizontal and vertical joint sealant was also replaced across the stucco and masonry façades. A cut out and re-caulk was performed on the window perimeters, which began with the removal of existing sealant from the metal frame to stucco condition and preparation of the joints for installation of new sealant.
Chamberlin's skilled craftsmen then installed new backing material where needed to the manufacturer's specified depth-to-width ratio, filled the joints with high performance silicone sealant and hand tooled the sealant for proper joint configuration, adhesion and a watertight seal. The crew cleaned the entire building envelope and covered the compromised existing stucco with a new elastomeric wall coating for water intrusion protection. The MasterProtect EL 750 elastomeric coating is a water-based, high-build, elastomeric, 100% acrylic waterproof coating for above-grade concrete, masonry, stucco and EIFS.
PROACTIVE SAFETY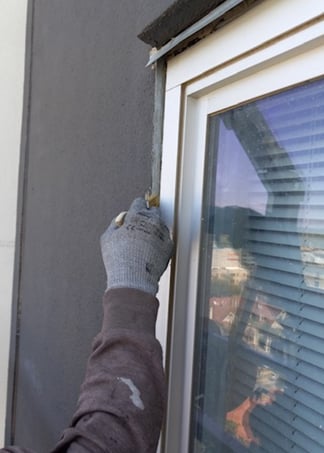 21 Rio was fully occupied for the duration of the project so keeping the residents of the apartment complex and the crew members safe was a primary focus. Chamberlin developed a complex, site-specific safety plan for the project, and the superintendent communicated the plan to all crew members and the project team. A Job Hazard Analysis (JHA) was also developed for this project which covered each task on the job, potential hazards associated with those tasks and how to prevent those hazards from causing an accident. The superintendent reviewed it with crew members each day before work began.
Warning and directional signage as well as designated pathways were in place for foot traffic. All equipment was inspected daily by a competent person before use. Personal protective equipment was worn at all times, and Chamberlin's zero tolerance fall protection policy was in place. Weekly toolbox talks were held for all crews covering pertinent safety topics and reinforcing Chamberlin's safety policies and procedures.
During installation of the elastomeric wall coating, care was taken to protect pedestrians and objects below as well as in surrounding areas from coating that could drip or get caught in the wind. During the cut-out and re-caulk of the window perimeters, an overhead protection system was constructed out of lumber and scaffolding to act as a shield for potential falling debris.
FINDING SOLUTIONS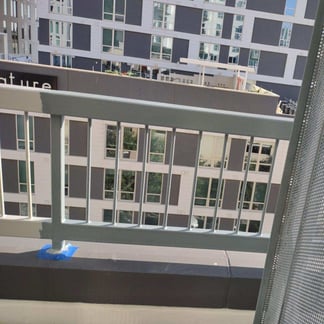 The original plan for the crew was to work on scaffolding, but Chamberlin found a cost and time saving solution. The entire apartment portion of the building envelope scope was completed concurrently from several swing stages across multiple drops, and from boom lifts on the lower levels where the parking garage is located, saving the owner thousands of dollars. To expedite work and minimize disturbances from accessing each resident's unit, Chamberlin devised special means of direct access to balconies across unique conditions to carry out the exterior work. Working from these stages and lifts required the crew to go through fall protection training and be swing stage and boom lift certified.
Chamberlin provides craft and safety training throughout the year with Chamberlin University, including swing stage classroom training at Chamberlin's office shared with the Engineer of Record, Building Diagnostics, for this project. Educating our team members on safety and technical skills empowers them to deliver quality, cost-effective projects that are completed safely and productively. For each project, and 21 Rio was no exception, Chamberlin works to provide our technicians the proper knowledge, tools and equipment they need to complete their scopes.
With the large square footage, multiple balconies and windows, plus the building being fully occupied for the year-long project, the crew had to overcome long work hours and work some weekends to stay on schedule. An additional struggle Chamberlin had to overcome were weather delays. For curing purposes, the elastomeric wall coating and traffic membrane could not be installed if there was rain or even a chance of rain. The crew worked long hours to make up for lost time and completed the job on schedule with zero safety incidents.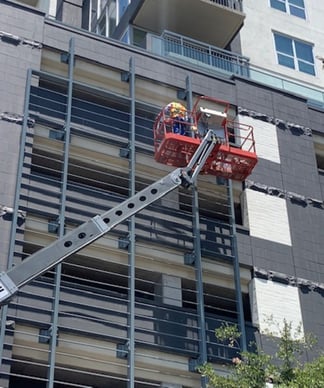 SUCCESSFULLY RESTORED

The apartment complex was also in need of having exposed brick and stone masonry on the garage coated as well as the decorative metal elements and metal coping freshly painted all the way from the ground level retail storefront up to the roof. The Chamberlin crew also executed targeted repairs, including sealant replacement at dryer and exhaust fan louvers, windows and balcony doors and perimeters, traffic membrane application and sheet metal installation, to make the building effectively sealed for a watertight complex for all residents.
Working as a team was key to staying on schedule and under budget and to perform quality work for 21 Rio. Chamberlin's attention to detail and expertise gained from decades of roofing and waterproofing experience helped them deliver high-quality installations for this student living apartment complex. 21 Rio revitalization was completed with quality craftsmanship, cost and time saving solutions and with a spirit of cooperation. Building Diagnostics stated, "Chamberlin was one of the first contractors we worked with when we started our consulting engineering firm in Houston 28 years ago. Chamberlin has continued to serve our clients well as we grew and opened offices in Austin, Dallas Fort Worth, Kansas City and Mexico City."
After Chamberlin's hard work and dedication, 21 Rio in the West Campus by The University of Texas at Austin is fully revamped and refreshed to offer their student residents a watertight home that is built to last.
Subscribe Today!
Stay-in-the-know and subscribe to our blog today!