Water Vapor Transmission of Materials, aka Permeance
Posted on: April 13, 2020 5 AM
One of my favorite movie lines is "You're killing me, Smalls" from The Sandlot, a baseball movie. Well in today's world, especially specifications for air barriers, the construction industry is killing me. I have written about this item before on #letsfixconstruction but to no avail. One of the technical data points I hear design folks dig their feet in on is the "perm rating". Permeance is a measurement of water vapor transmission through a material often based on testing performed in accordance to ASTM E96, either Procedure A (dry cup or desiccant) or Procedure B (the wet cup). Big note here, the IBC (International Building Code) in Chapter 2 only references Procedure A.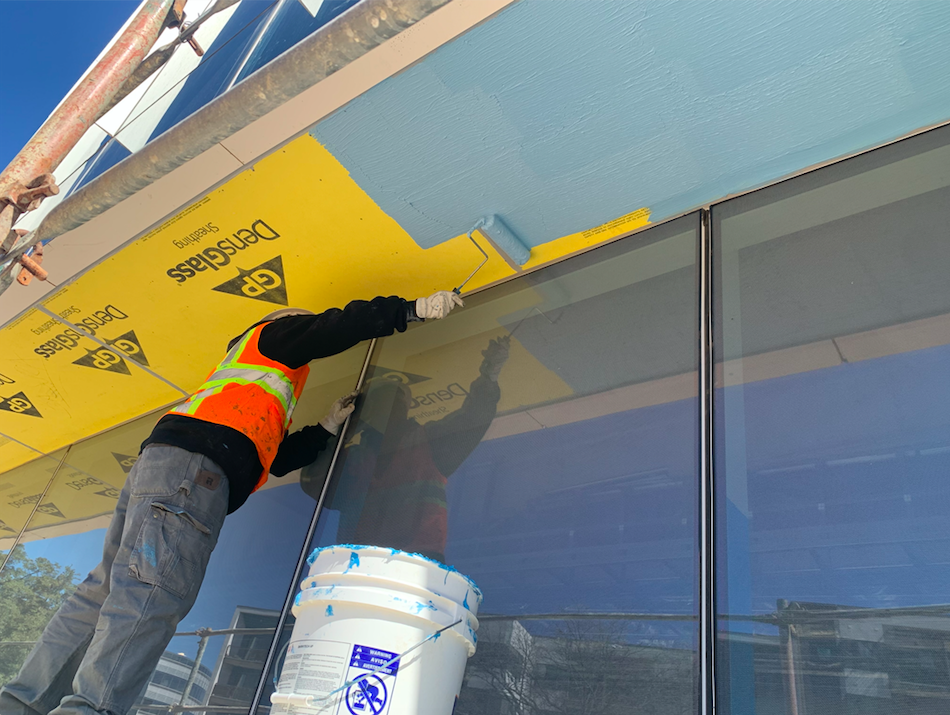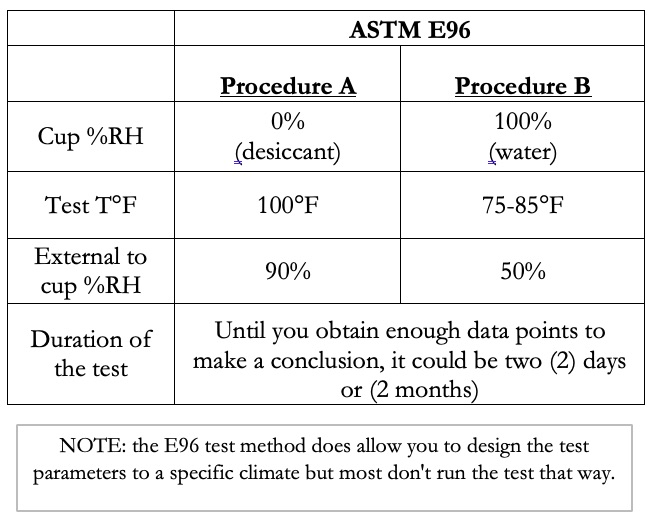 For the record, I love good reproducible usable data, but the ASTM E96 method of testing leaves me flat. At this moment I'm sitting here looking at the same material, tested by two different accredited laboratories and there is a 300% difference between the two labs between both two (2) Procedure A samples and two (2) Procedure B samples. With that type of difference, how can one rely on this type of data?
The ASTM E96 specification itself states, in part, "A permeance value obtained under one set of conditions may not indicate the value in another set of conditions." Based on a round-robin testing effort, ASTM reports E96 has about 20% lab-to-lab variability. I bet you are going to have to think fairly hard about another part of your project manual where you'd allow a 20% variability in testing data. Permeance data are not an evaluation criterion for ABAA (Air Barrier Association of America); the data is listed by ABAA because the Design Community has requested it.
Going back to the Code definitions, the language used in the air barrier business is constantly changing as the industry and technology evolve. Nowhere is this more evident than in Building Code language, which now fully defines Vapor Retarders and Vapor Permeable in Chapter 2 of the 2015 & 2018 IBC (International Building Code). The new code lexicon does not contain the terms of Vapor Barrier, Vapor Impermeable, breathable or nonbreathable. There is only one reference to vapor permeable and three (3) references to vapor retarder.
The new definitions are based, and only based on ASTM E96, Method A (dry cup method). The dry cup method places a desiccant in the bottom of a cup which creates a 0% RH environment, and the environment above the membrane is 90% RH. The material being tested is placed between these two RH conditions, and the whole assembly is maintained at 100°F for the duration of the test.
The Vapor Retarder Classifications included in the IBC are:
Class I – 0.1 perm or less
Class II – 0.1< to ≤1.0 perm
Class III – 1.0< perm and ≤10 perm
NOTE: there is a definition in the code to call anything with a perm of 5.0 perms or higher a Vapor Permeable membrane when tested to Procedure A.
It is suggested that these definitions should be considered for the next round of literature printing by manufacturers in an attempt to comply with code definitions and to remove some of the misleading labeling of material properties.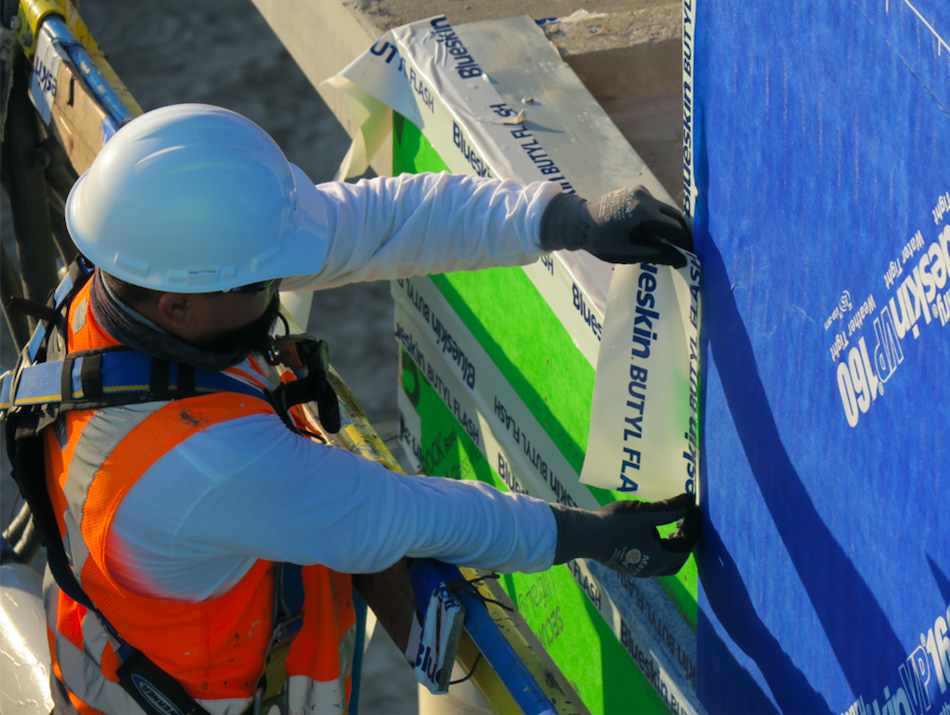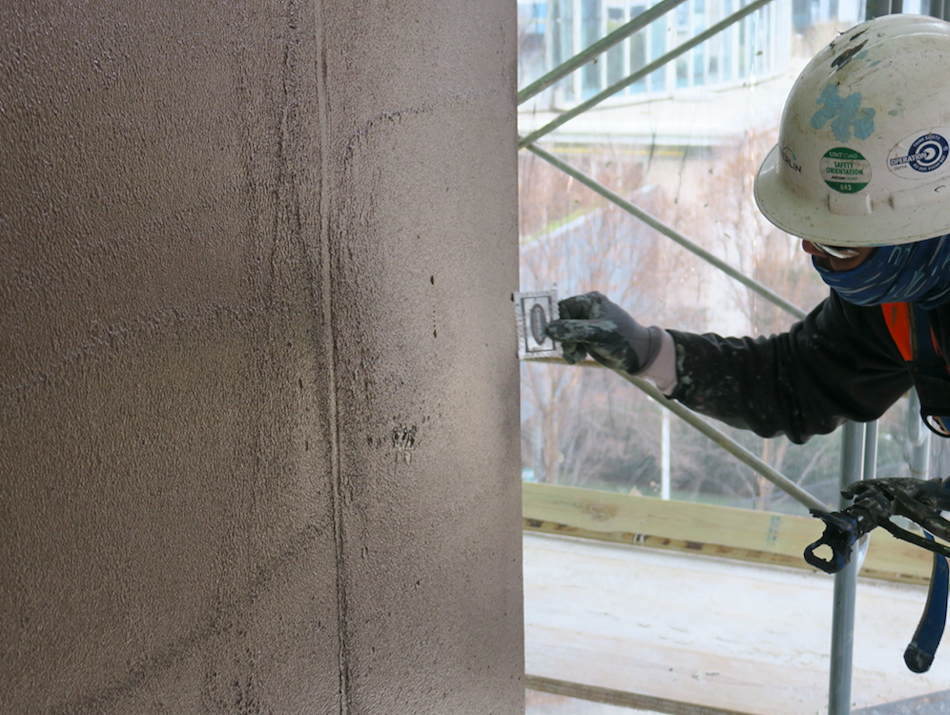 The air barrier is just one component of an Evaluated Assembly (air, thermal, vapor and water control). Don't hang your hat on such a difficult to reproduce and highly variable point of testing data such as the "perm". With the ever-growing use of CI (continuous insulation) the perm rating of the air barrier takes on an ever diminishing and substantially reduced significance. Please remember that the mold issue had many parents and the more dominant parents were the almighty R-value of insulation and its relationship to vapor retarders. Don't get caught in that same trap again with over reliance on perm data. Please remember that today's science tells us that unimpeded air infiltration can move 32 to 64 times more moisture into a building than can water vapor transmission alone and that is why the development of air barrier technology was so critical.
Special thanks to Andrew Dunlap, AIA, CDT, LEED AP, NCARB, Principal at The SmithGroupJJR, for technically reviewing and critiquing this brief article and for translating my Texan to English.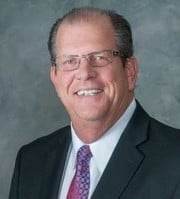 Roy Schauffele, FCSI, CCPR, FABAA, LEED Green Associate, ABAA Certified Air Barrier Specialist is an internationally published author and speaker in the fields of energy conservation and sustainable building envelopes including insulation, air barrier technology, roofing & waterproofing, vegetative & cool roofing, all with an eye towards improving building science, performance and quality of life. He is the acknowledged inventor of "The Perfect Wall" which is now the nationwide building code standard for wall construction. He is President and Founder of Division 7 Solutions, Inc., now entering its 32nd year of continuous operations. He was the first Technical Director of SPRI (Single Ply Roofing Institute) and a Construction Specifications Institute (CSI) Board Director. He has been an elected City Councilperson, a Texas Senate and Gubernatorial appointed official in the State of Texas and currently serves by mayoral and city council appointment on the City of San Antonio, Small Business Advocacy Committee. He currently serves as a Past Board Chairman of the ABAA (Air Barrier Association of America), after three terms as Chairman and the first Regional ABAA Advocate. He is a Technical Advisor to Build San Antonio Green (BSAG), an award winner in 2012 for his Technical Contributions to BSAG and was named the (2016) Individual Green Practitioner by the City of San Antonio for Sustainable Education and Outreach. Globally, he is the only person to be a Fellow of both CSI and ABAA, and at this time he is the only Certified Air Barrier Specialist. He continues to be a requested national speaker on air barriers, roofing, insulation, energy conservation design and sustainability. Roy can be reached at 210-859-3749 or roys@division7.com.
Subscribe Today!
Stay-in-the-know and subscribe to our blog today!