Restoring The Buckingham Balconies
Posted on: December 11, 2017 6 AM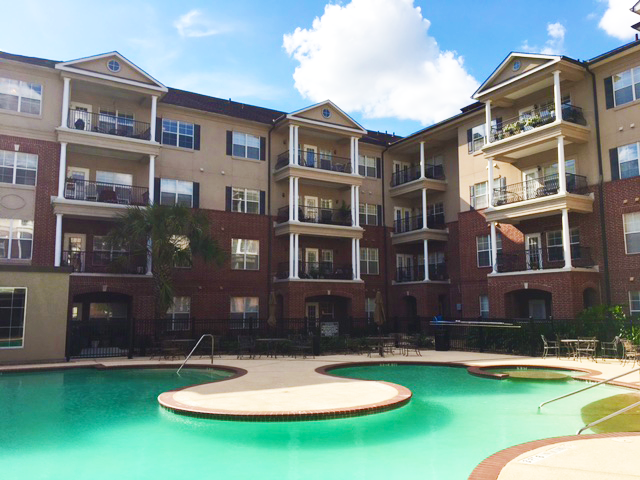 The Buckingham is a four-story senior living community located in the center of Houston, Texas. This establishment encompasses over 200 residences, with a balcony attached to each exterior unit. Due to unknown issues during original construction, the waterproofing and flashing details installed on the balconies failed, allowing water infiltration that caused extensive damage over the years. The framing members were deteriorated, and the plywood decks rotted, with many requiring complete demolition and rebuild. A nearly two-year-long project kicked off to fully restore and waterproof 144 balconies at The Buckingham.
THE PROCESS
Chamberlin was conscious of the residents' schedules and strived to keep interruptions to a minimum. Work only commenced from 8:00 a.m. to 4:30 p.m. daily. Crews began their work by sealing the windows on the exterior side with window film to help mitigate dust penetrating the tenant's living space. When needed, insulation was added to muffle noise as well.
Chamberlin used chipping hammers and jackhammers to demolish the concrete topping slab of the balconies followed by the plywood decking. Crew members created an efficient way to keep debris to a minimum while they worked. A trash chute was constructed to run through the scaffolding so they could dump directly from the balcony to a wooden trash box at the bottom of the chute. The waste was emptied regularly into dumpsters maintaining an orderly work site.
After demolition, Chamberlin repaired and replaced damaged framing and columns, as well as installing new through-wall flashing. Next, new wooden decking was installed with an eighth-of-an-inch drop per foot to create the proper drainage slope. Then a W.R. Grace Bituthene 3000 sheet waterproofing system was applied and covered with a Wausau paver system. Finally, metal retaining flashing was installed.

A NEW APPROACH
Each balcony included one or two columns consisting of four-inch steel tubes concealed with a decorative fiberglass cover. These columns proved to be a challenge in accessing the wooden decking beneath them. The crew utilized the column base plates to raise the steel tube so the plywood and framing could be replaced. In addition, some of the column base plates were rusted, so new steel plates were welded and installed.
A larger challenge came when replacing the columns that had been completely removed from the balconies. The fiberglass covers were made of two pieces, which became warped when removed, therefore not matching up perfectly when reassembled. Crew members used Bondo to smooth out the seam and imperfections on the cover before sanding, priming and painting the columns. Since Chamberlin was brought in mid-project, complete removal of the columns and handrail on each balcony was the system in place from the previous contractor. However, Chamberlin devised an alternate method for the deck replacement that did not require removing the column covers or handrails. The crew members secured the columns in place by removing only the ornamental base of a column's fiberglass cover. They then removed the eight-inch lag bolts connecting the steel column to the column base plate and underlying framing members. Using those anchor points, they attached chains connected to supporting I-beams that suspended the column's weight, holding it in place. With this system, the crew could remove the damaged wooden decking substrate, as well as the column base plate, and replace them while the column remained intact.
This system not only enhanced productivity for the restoration process but also incorporated an additional safety element with the handrails in place during construction. Chamberlin recognized the detail waterproofing and flashing at the column base as another area where installation could be streamlined. Originally, a three-piece metal design was being used, but Chamberlin developed a method that only required two pieces and was easier to install. Each balcony and column on the property differed slightly in measurement, so there was not a one-size-fits-all piece for this task. Varying slopes and angles added to the difficulty. Each piece of metal had to be custom measured and fabricated by Chamberlin sheet metal mechanics. Reducing the number of pieces to be manufactured and installed by a third greatly increased overall production, saving time and money.
QUALITY ASSURANCE
The specialty engineering firm consulting on the project, French Engineering, conducted weekly quality assurance inspections throughout the project and submitted subsequent reports specifying accurate and defective attributes within the contract document guidelines. Additionally, they completed an inspection and punch list on each stack of balconies as they were completed. French Engineering was readily available to come out and inspect at any time for quality assurance and were also available to reconvene when an issue arose. When an atypical condition was encountered, French investigated the issue and went to work to find a solution. They would issue SK sketches detailing the resolution for Chamberlin to execute. Weekly progress meetings were attended by Chamberlin, French Engineering and the owner's representative. These meetings determined the project schedule, change orders, and much more to help everyone stay on the same page and to ensure the project stayed on track.

WEATHER CONCERNS
Extreme weather was experienced during this project as several storms tore through Houston, including Hurricane Harvey. For each storm, Chamberlin shut down the jobsite following Chamberlin's Hurricane Preparedness SMART Plan: Secure, Monitor, Alert, Review and Team. These steps are put in place to create a safe environment for all involved and include securing equipment, trash, materials or other objects on the jobsite that could be a potential hazard in high winds. Many of the Chamberlin crew members also utilized this protocol at their homes when Hurricane Harvey struck to keep safety as a top priority off the job with their families, as well.
At times, Chamberlin had up to 35 crew members working together to meet the project's schedule. Chamberlin Waterproofing Superintendent Thomas Borrosco cites teamwork as the main contributing factor to their success saying, "Chamberlin's sheet metal crew did an outstanding job throughout this project helping and supporting the waterproofing team. Project Foremen Federico Castrejon and Losand Quinn also worked really well together, and with the crew, to make it a success for Chamberlin and for the residents of The Buckingham."
Want to learn more about our building restoration services?
Subscribe Today!
Stay-in-the-know and subscribe to our blog today!