Posted on: October 19, 2015 5 PM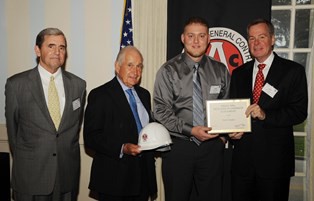 Dustin Murphy, Waterproofing Project Coordinator for Chamberlin Roofing & Waterproofing, is one of the latest recipients of the Patrick J. Kiley Excellence in Leadership Scholarship Award (PKEIL). Along with seven other Houston-area college bound and current university students, Murphy received a portion of the $40,000 in scholarship winnings. Murphy has been working for Chamberlin since 2007 while attending San Jacinto Community College. He is transferring to University of Houston Clear Lake next spring and plans to complete a Bachelor's of Science by 2016. The PKEIL Scholarship Award was established more than 15 years ago, and renamed in honor of Pat Kiley who served as AGC Houston Executive Vice President for 21 years. More than $300,000 in scholarships have been awarded to students pursuing degrees in construction-related disciplines since 1996.
Subscribe Today!
Stay-in-the-know and subscribe to our blog today!