Amy Haynes - Senior CAD Specialist
Posted on: July 7, 2022 4 PM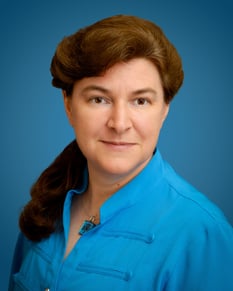 Background Experience:
Before Chamberlin, Amy was an Architectural Drafter working for her brother, who was an architect at a roof consulting company. She continued in architectural drafting, mainly in commercial, historical preservation and master plans, in the government and school sectors.
Typical Day at Chamberlin:
Converting drawings into a format that can be edited in AutoCAD, Amy works with both raster and vector marked-up submissions of the architectural drawings. Finding the best way to present visual renderings of material installation can be challenging, yet Amy is competent in drawing all disciplines of waterproofing and roofing. That includes paver layouts, traffic coating, expansion joints, flashing, air barrier, hot-applied, below-grade and of course roofing, as well as a few other atypical aspects that sometimes need visual representation. She also believes that providing the ability to envision challenges before work is started, ensures that the job will be done smarter and safer for all involved.
Notable Project:
Amy participated in having the Irving Convention Center pool deck laser scanned for accuracy in design of paver layouts on pedestals. While using REVIT to create section-cuts from the 3D point-cloud laser scan of the slopes in the pool deck, Amy caught an issue before the onsite work began. She identified that the adjustable pedestals needed to support the deck pavers, only heighten to a maximum of 21 inches, but that the actual depth of some areas under the pavers are greater than 21 inches. This allowed the project team to order an additional layer of insulation in those areas, avoiding complications and delays during the installation, not to mention saving time and money and having a perfect amount of attic stock in reserve.
Personal Accomplishment:
Amy fulfilled her goal of gaining a Construction Documents Technology (CDT) Certification through Construction Specification Institute (CSI). The CDT provides foundational training in construction process, roles and responsibilities and construction documentation. Amy passed a comprehensive test on all aspects of the architectural coordination of a project and maintains her certification with ongoing continuing education hours.
Outside The Office:
As an active member of her church, Amy plays the guitar and sings vocals for music ministry. As an avid, self-taught musician, she also joined TIMES, the Traditional Irish Music Education Society, by sitting in on Irish jam sessions to help keep up her skills. Amy also enjoys camping (not glamping)!
Life Without Chamberlin:
Drafting is Amy's third career path. Before she began drafting as a profession, she was an Instructional Designer for eight years in the telecom industry. Before that, directly out of college her first career was as a COBOL programmer developing accounting applications and reports. If she wasn't drafting, she would fall back on one of those career paths again, probably developing online training environments.
Subscribe Today!
Stay-in-the-know and subscribe to our blog today!