Adam Matthys - VP & General Manager
Posted on: January 27, 2015 6 AM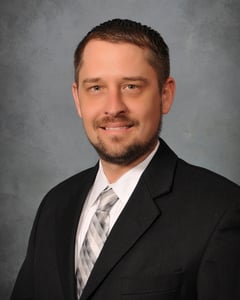 Where it All Started
Adam learned the basics of waterproofing during his time with a smaller contractor while he was attending college in San Marcos, Texas. Adam made the move to Chamberlin in 2000, to make it a career and has worked in many different roles throughout his time at Chamberlin in both the field and in the office.
A Day in the Life:
A typical day for Adam consists of leading his Austin and San Antonio teams. Adam works hand-in-hand with his Senior Operations Managers and Estimating Managers daily to ensure they are chasing the work that fits our team's strengths so that we always stay on top of the current workload, focusing on Safety, Quality and Teamwork.
Outlook:
Adam states that the most important aspect of our job is to make sure we each perform the work safely every day. Installing a quality product for our customers while working together as a team is a close second in importance. If we could not provide a quality product to our customers in a timely fashion, all while focusing on the safety of our employees, we would not be a company that has been in business for over 125 years.
Notable Projects:
Adam has several notable projects he could make mention of, but here are just a few:
a. Austin FC Stadium – Chamberlin performed the installation of the roofing, waterproofing and metal panel scopes of work on the new stadium for Austin's first professional Major League Soccer team under the direction of Austin Commercial.
b. SAIA CONRAC – Chamberlin performed the installation of the roofing, waterproofing and expansion joint scopes of work on the consolidated rental car facility at San Antonio International Airport under the direction of Turner Construction.
c. San Antonio State Hospital – Chamberlin performed the waterproofing scope of work at the new SASH project under the direction of Vaughn Construction.
d. University of Texas DKR South Endzone Addition and Renovation – Chamberlin performed the installation of the Subroof system and waterproofing scopes of work for the newly renovated south endzone.
Greatest Personal Accomplishments:
Adam's greatest accomplishments include graduating college, while working full-time., as well as starting a family. Adam is most proud of the young adults, his two children (Wyatt and Gracie) have grown into, but he says that his wife gets most of the credit for this since she did most of the parenting.
Life Without Chamberlin:
Adam's dream job would be getting the opportunity to be a professional golfer. He said since that isn't in the cards for him, that he would be more than happy estimating and entertaining clients if he wasn't in the role he is in today.
Subscribe Today!
Stay-in-the-know and subscribe to our blog today!