Chamberlin Safety Coordinators Earn CSHO Certifications
Posted on: April 15, 2020 5 AM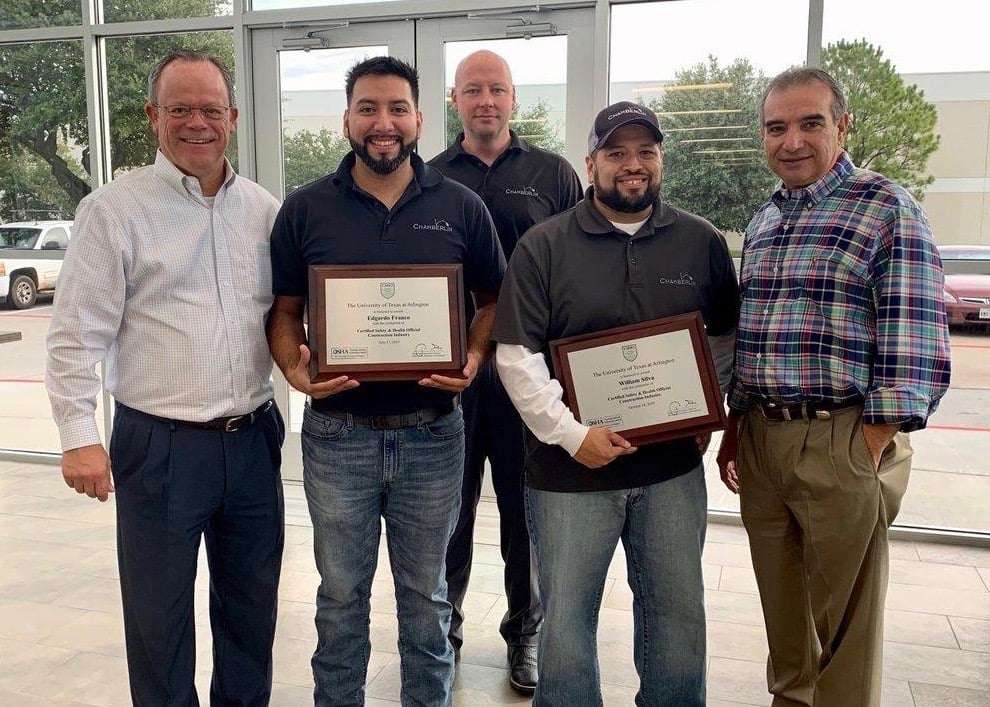 Chamberlin's safety culture is based on OSHA standards being the minimums, as we strive to improve and exceed OSHA guidelines on every project. There is no greater priority than a safe workplace that aims to have no injuries to our employees and employees of other trades. Chamberlin's safety goal on each project is to protect property and persons: zero recordable injuries for craftsmen and no damage to property and equipment. Chamberlin has seven full-time safety coordinators who inspect job sites daily.
All Safety Coordinators are certified OSHA Outreach Trainers and can conduct OSHA 10-Hour and 30-Hour courses. Two of Chamberlin Safety Coordinators, Edgardo Franco in Austin and William Silva in San Antonio, recently earned their Certified Safety and Health Official (CSHO) certification. The CSHO program was developed to equip construction industry professionals with the responsibility for jobsite safety and supervision with a solid foundation in regulatory knowledge. This certification may only be obtained after more than 200+ hours of specific OSHA regulatory training have been completed.
Director of Safety & Risk Management Justin Lambert expressed his praise for their accomplishments saying, "We continue to expand the knowledge base of our safety team at Chamberlin, and I am proud of the growth and dedication both Will and Ed have shown over the years. I look forward to their future efforts of advancing Chamberlin's safety culture." These two men are joining our other safety coordinators, Jorge Hermosillo, Taylor Emmons, Edgar Vilchis, Adrian Granillo and Jorge Reyes who have achieved the same CSHO certification. Every member of Chamberlin's safety team is now certified at this level or higher.
Subscribe Today!
Stay-in-the-know and subscribe to our blog today!