Associated General Contractors (AGC) Construction Safety Excellence Awards (CSEA)
Posted on: April 1, 2021 5 AM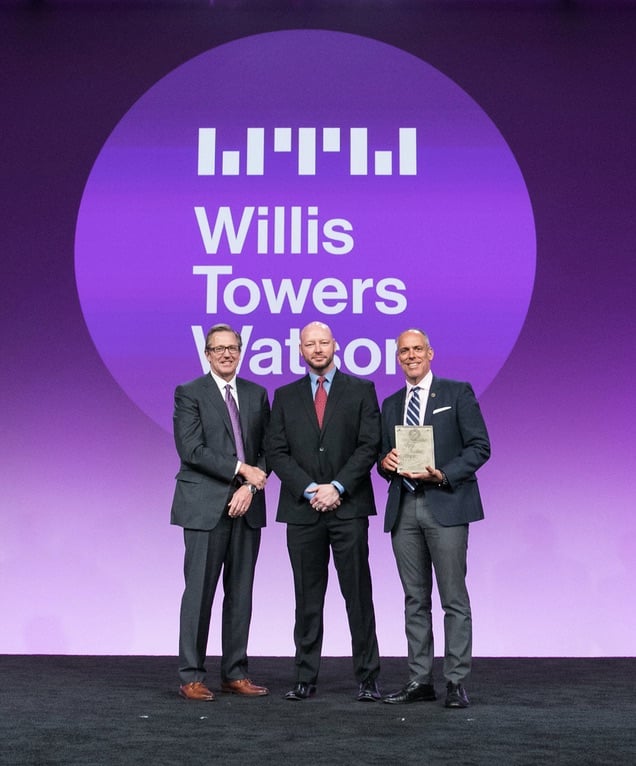 Chamberlin's safety program placed third in the national Associated General Contractors (AGC) Construction Safety Excellence Awards program in the Specialty 1.2M - 2M work hours category. Chamberlin Director of Safety & Risk Management Justin Lambert accepted the award at the AGC Annual Convention on March 11, 2020 in Las Vegas, Nevada. The purpose of the award is to recognize construction companies who excel at safety performance. A candidate's commitment to safety, occupational health management and risk control are all examined when determining finalists and award winners. Submissions are reviewed for evidence of a company's commitment to safety by upper management, active employee participation, safety training, work site hazard identification and control plus safety program innovation.
In the commercial construction industry, over 70% of falls happen while working on roofs, ladders, scaffolding and staging. Most of Chamberlin's work is performed in these areas, and we understand the severity of the risk and absolute need for proper safety precautions and policies.
Chamberlin's commitment to safety starts at the very top. Strong leadership from our management team supports our safety program and policies and guides all employees to do the same. They dedicate time and resources to constantly improving our strategies.
Upper management attend weekly, bi-weekly and quarterly meetings where they review and analyze safety data and assist the Chamberlin safety department with developing safety policies and procedures. Additionally, they invest in growing our team of safety professionals and providing them opportunities for continuing education and certifications. Our safety department has doubled in size in the last four years. Chamberlin also offers safety incentive programs and invests in cutting edge technology.
One such technology that we have seen great results from is SmartDrive. Within the first six months, Chamberlin saw a 100% reduction in rear-end collisions and a 96% improvement in their SmartDrive safety score. The safety score is a reflection of progress made across 24 different risk areas including speeding, distracted driving and following distance. Lambert said, "At Chamberlin, we are built upon our values, which are safety, quality and teamwork – and they're in that order on purpose. Our selection of the SmartDrive program distinctly reinforces our top value, safety." Not only is safety a primary focus on Chamberlin's jobsites, but it is also a primary focus while driving.
One way Chamberlin encourages active employee engagement with our safety program is by hosting quarterly bilingual safety meetings. At these meetings, Spanish-speaking crew members are provided receivers that give them a real-time translation of the program so they can easily follow along. Also at these meetings, winnings from our safety incentive programs are distributed. An aspect that sets Chamberlin's incentive programs apart from others is the way we determine the winnings. The amount of money available to win is increased each time a crew member reports a safety hazard observed on the job. By doing this instead of only rewarding low numbers of jobsite incidents, crew members are encouraged to report and correct safety hazards instead of covering up incidents for a chance of winning more money.
Chamberlin is honored to have placed in the Associated General Contractors (AGC) Construction Safety Excellence Awards (CSEA) program.
For more information, contact:
Cristina Kinney
Senior Marketing Manager
214-783-2506
ckinney@chamberlinltd.com
Subscribe Today!
Stay-in-the-know and subscribe to our blog today!