Associated Builders & Contractors (ABC) Oklahoma Excellence in Construction Eagle Award
Posted on: November 11, 2019 6 AM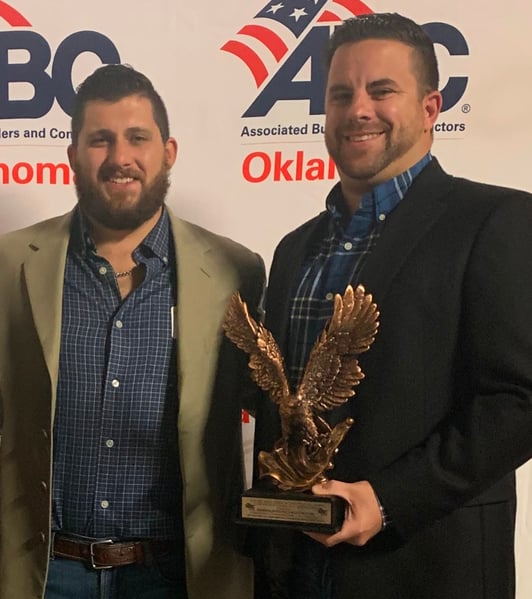 Chamberlin is honored to have received an Associated Builders & Contractors (ABC) Oklahoma Excellence in Construction (EIC) Eagle Award for their work on the Gaylord Family Oklahoma Memorial Stadium in Norman, Oklahoma. The EIC awards program represents the nation's most innovative and high quality construction projects and safety programs. They are designed to recognize outstanding projects built by members of the association which helps bring about awareness of the quality of work being produced by merit shop contractors.
Applicants must be ABC members, and no project that experiences a safety-related fatality within the current program year is eligible. Judges select the winning entries based on the following criteria: attractiveness of design, complexity, workmanship, innovation, unusual challenges overcome and more.
Chamberlin Estimating Manager Craig Ayers and Senior Project Manager Kraig Murray received the Eagle Award at the ABC Oklahoma Excellence in Construction awards banquet on Thursday, October 24, 2019, at the Osage Casino Hotel Skyline Event Center in Tulsa, Oklahoma. Placing first at the local Oklahoma chapter qualifies Chamberlin to compete for a national ABC Excellence in Construction Eagle or Pyramid award. The national winners will be celebrated at the 30th Annual National Excellence in Construction Awards Gala in Nashville, Tennessee.
The Gaylord Family Oklahoma Memorial Stadium is one of the most well-known football stadiums in college football. With a total seating capacity of 82,112, the stadium ranks among the 15 largest on-campus facilities nationwide.
For years, the Gaylord Family Oklahoma Memorial Stadium has struggled with moisture intrusion specifically at expansion joint locations throughout the bowl. Multiple attempts to retrofit and repair these conditions have been made over the years. This evolved into an annual maintenance item for the university and created unnecessary repair costs. Chamberlin was selected to find a permanent solution for the expansion joints and ultimately stop the leaks. In approximately six months, Chamberlin renovated the Gaylord Family Oklahma Memorial Stadium on time, with zero safety incidents and without closing the stadium.
Subscribe Today!
Stay-in-the-know and subscribe to our blog today!